Boys tour 2008 – Nevada calling.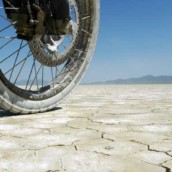 Came back from this year very long Boys tour. About 4,500 Km and about 52 hours of actual riding time.
It looks like this was our best adventure so far. We visited some new places while calling into some classics like Mitchell and Portland.
Day one was a bit weird for me as I had a wedding to attend on the Saturday evening. So I waved good bye to the boys after breakfast. Then on Sunday morning I tackled I5 in the wee hours of the morning. And within 5 hours I had caught up with the boys in a 'Mexican' town called Toppenish just south of Yakima.
I think that there was two highlights of the trip. A full day ride in Northern Nevada which included an hour spent on a dry lake. A surreal mix of scenery, sensations and emotions.
Then a full day of riding twisty roads in Northern California.
The last two days of full riding was filled with disappointment as we learned that America is running out of money faster than one would think. It turns out that some pretty major roads are simply not maintained. Meaning impossible to cross snow section and pretty dangerous trees fallen onto the roadway. Ah the joy of back-tracking and riding I5 to make up loss time.