Monument valley.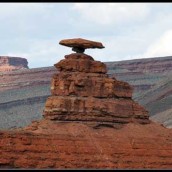 We had a double wide trailer waiting for us in Bluff. So we decided to head out as early as possible and drop our gears in Bluff before heading to two key sites, the four corners and monument valley.
I was half expecting a tourist trop at the four corner, but this is one of the best tourist trap ever. Quite depressing and sad actually. I discovered that the Navajo nation is made out of relatively small peoples and therefore they build some rather small stands.
Anyway, after the obligatory stop and photo shoot, we headed west towards Monument Valley. Half way there we decided to take a shortcut on an unnamed road visible on a detailed map that Theo bought yesterday. And of course the murphy laws about shortcuts was applied in full force. But despite the extra challenge and overwhelming feel of the task ahead, all went well. The sensation of having achieve something few have done erased all the scary moments.
Monument valley was seen from the main road, as by now we had run out of time and energy. I went alone to scope the gooseneck State Park, as we are supposed to do that in the morning. The solo ride back to Bluff in the early evening hours was brilliant in term of colors and scenery.