Loop by Seton Portage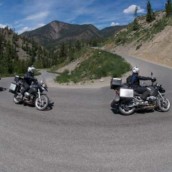 Today, I achieved a long time target, thanks to a friend who encouraged me for it. The target consist in doing a dirt loop by Seton portage, from Vancouver.
In a nutshell: Vancouver, Pemberton, D'Arcy, then dirt to Seton Portage, Carpenter Lake, Lillooet, back on pavement along Duffy lake road, Pemberton and back in vancouver.
It is a fairly long day, which requires an early start, and some favourable weather. It all came perfectly together today. The weather along Anderson lake was better than last October ride with the boys.