Stelvio Pass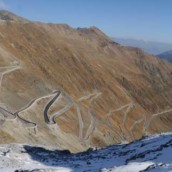 This is it …
This morning first order of the day was Stelvio Pass.
And I was not disappointed, darn lucky I should say. really excellent conditions if you can forget the cold. But the cold keeps moisture and mist away. No wind either and no clouds or only in really high altitude.
And because we are pass the middle of October, very little traffic. I cannot even start to imagine what a gong show it must be in the summer. This pass is so famous and has been featured on so many TV shows and car magazine that it attracts peoples from all horizons.
Not too many pass get there very own Wikipedia page where you can learn all about this one of a kind road.
Due to a mechanical failure, the first in 25,000Km, I had to spend some time in Bormio. There I was helped by another rider named Andreas who owns the coolest of Suzuki I have ever seen.
Once my bike was fixed and ready to go, the weather had taken a turn for the worse. And since it was time to get closer to home, I decided to leave the mountain region to reach Como lake, and try to make it back to France tonight via the infamous 'Mont Blanc tunnel'.
It was a long cold day, but an unforgetable one for sure.