Desert safari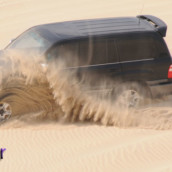 Safari is a great word in this context. But this is one of the few organized tourists activities in Qatar. They call it half day desert safari. It lasted 4 hours and started from a hotel in Doha. After reaching the dunes area the driver removed some air from the tires. And the roller coaster started.
It was absolutely brilliant. Everybody is looking forward to another go.
I must say that some sections were hard to cross in a cage. I so wish that the HP2 had been there with me. There is space to open the throttle without any worry.