Moto GP track – Losail circuit.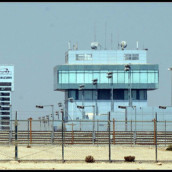 This is the site where a Moto GP race took place at night for the first time. The day temperatures are pretty much unbearable. Losail was built from scratch in the middle of the desert. The lighting system must have cost a bundle.
And because Qatar is a pretty remote, non-touristic area this must be the most accessible Moto GP race of the season. We were told that most peoples could get in Free. Yes that is free of charge at most international events, because of the low turn out of the local population.