Viaduc des Rochers Noirs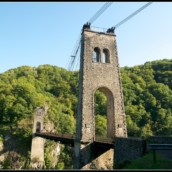 Today a long awaited ride to the 'viaduc of black rocks' finally took place. The Correze region is definitively full of surprises.
This Viaduc was built in 1913 and was purely used by the railway until 1959. Converted to road usage till 1983, then turned over to pedestrian only. In 2005 it was close to all traffic, due to safety concerns. The bridge is in dire need of repairs. But who is gonna pay? What a surprising site though.